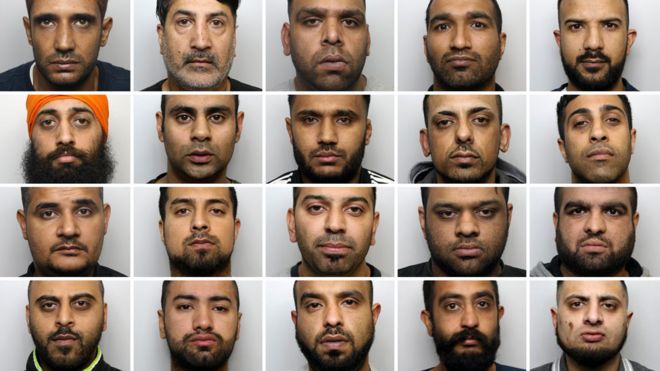 Daily Mail still calls these MUSLIMS - ASIANS!
See here
Huddersfield grooming: Twenty guilty of campaign of rape and abuse
Twenty men have been found guilty of being part of a grooming gang that raped and abused girls as young as 11 in Huddersfield. The men were convicted of more than 120 offences against 15 girls. Victims were plied with drink and drugs and then "used and abused at will" in a seven-year "campaign of rape and abuse" between 2004 and 2011. At Leeds Crown Court, the ringleader, Amere Singh Dhaliwal, 35, was jailed for life with a minimum of 18 years. Other members of the gang were jailed for between five and 18 years but the court heard many perpetrators have never been identified. Details of the men's convictions and sentences can only now be published after reporting restrictions on a series of trials were partially lifted. During the three trials, jurors heard how the men - who are all British Asians mainly of Pakistani heritage - preyed on young, vulnerable girls, one of whom was described as having the mental age of a seven-year-old.
Source