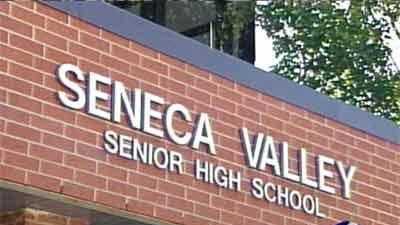 And behold another beast like a bear stood up on one side: and there were three rows in the mouth thereof, and in the teeth thereof, and thus they said to it: Arise, devour much flesh. Dan.7.4
The second Beast is Bear.
BEAR = SOCIAL MEDIA (Facebook Apple Youtube Twitter Instagram Google etc...)
Arise, devour much flesh......
Lawsuit accuses Seneca Valley 'mean girls' of targeting boy with false allegations
While "Mean Girls Day" is being marked Wednesday in reference to a mention of Oct. 3 in the popular 2004 cult movie, the parents of a former Seneca Valley High School student claim in a federal lawsuit filed this week that their teenage son was terrorized by false accusations made by five "mean girls" at the school.
Michael J. and Alecia Flood of Zelienople, Butler County, the parents of a teenage boy identified in the lawsuit as T.F., seek unspecified civil damages against the girls' parents, the school district and Butler County District Attorney Richard Goldinger's office. The lawsuit, which includes the term "mean girls," alleges they "conspired in person and via electronic communication devices to falsely accuse T.F. of sexual assault on two occasions."Neither Goldinger nor Seneca Valley school officials returned calls seeking comment.
The 26-page lawsuit — filed in Pittsburgh on the eve of Mean Girls Day — alleges that T.F. "was forced to endure multiple court appearances, detention in a juvenile facility, detention at home, the loss of his liberty and other damages until several of the girls reluctantly admitted that their accusations were false" this summer.
The lawsuit contends T.F. was bullied on multiple occasions by classmates. In one example, the lawsuit said students last year placed masking tape with the word "PREDATOR" written on it on his back without his knowledge during choir practice.
The lawsuit alleges the boy was further damaged from "gender bias" by school officials and Goldinger's office, which even after learning the girls' accusations were false "did not take any action against the females involved," said attorney Craig Fishman of Pittsburgh, who represents the Floods.
"(T.F.) was basically being tortured in school by the other students and investigators, but the administration was only focused on protecting the girls who were lying," Fishman said. "Once the allegations were proven false, they really didn't care one bit about T.F. and there has been absolutely no repercussions against the girls." The teen boy is being home-schooled, Fishman said.
Source
Here is my take on the Four Beasts:
The Four beasts of Daniel are:
FIRST BEAST LIONESS WITH WINGS OF AN EAGLE = THE AIRLINE AND SPACE INDUSTRIES
1. The first was like a lioness, and had the wings of an eagle: I beheld till her wings were plucked off, and she was lifted up from the earth, and stood upon her feet as a man, and the heart of a man was given to her
SECOND BEAST BEAR = SOCIAL MEDIA (facebook twitter etc...)
2. And behold another beast like a bear stood up on one side: and there were three rows in the mouth thereof, and in the teeth thereof, and thus they said to it: Arise, devour much flesh.
THIRD BEAST LEOPARD = NATIONALISM OF THE FORERUNNER TO THE ANTICHRIST (HE WHO MURDERS THE FATIMA POPE WITH AN ARMY MADE UP OF MANY NATIONS)
3. After this I beheld, and lo, another like a leopard, and it had upon it four wings as of a fowl, and the beast had four heads, and power was given to it.
FOURTH BEAST = THE ANTICHRIST (THIS IS CHURCH DOCTRINE AS ALL FATHERS TESTIFY)
4. After this I beheld in the vision of the night, and lo, a fourth beast, terrible and wonderful, and exceeding strong, it had great iron teeth, eating and breaking in pieces, and treading down the rest with its feet: and it was unlike to the other beasts which I had seen before it, and had ten horns.
All four beast are different from one another - the third and fourth beasts are political in nature but different - the third being man-made nationalistic political authority and the fourth being man-made universal political authority.
I think this is in line with what the Church Fathers would say.
If you find fault in this let me know.
Arise, devour much flesh......