FL Weatherman Slammed On Twitter ... AFTER POSTING VID OF STRUGGLING KITTEN IN STORM
A Florida weatherman is feeling Twitter's wrath after posting a video of a struggling kitten in Hurricane Ian -- and not being able to bring it to safety -- as conditions in the area continue to worsen and pose life-threatening risks to anyone who dares to go out in the storm. WINK-TV meteorologist Dylan Federico posted a short clip of the kitten outside the Fort Myers TV station clinging to a bench with water and wind thrashing all around it. Federico's caption read, "Storm surge is rising rapidly outside WINK News. A kitten is on the bench trying to escape the water. The doors are locked but we're trying to get the kitten inside."
Video since he deleted it pic.twitter.com/lGBD3CJM9s

— Mick O (@Mick0T) September 28, 2022
More than an hour passed without an update on the kitten from Federico ... and his followers got PISSED. One Twitter user wrote, "Less filming, more saving. If the water ain't as high as a bench, you sure as heck can go out there and get that baby." Another said, "bro, save the cat! For the love of god!"Dylan eventually deleted the post -- and the anger on social media continued. Another person wrote, "You may have deleted the video but none of us will ever forgive you. Cowardly, cruel and inhumane." Finally, a couple hours after the video first went up, Federico Tweeted, "Right after the video was posted we attempted to get to the cat but it swam in a different direction out of view. I waited to post an update in hopes we could grab it. Please take your companions with you when you evacuate." What's more, a source with direct knowledge tells us staffers were given strict instructions to stay inside the building as conditions continue to worsen and going outside could prove deadly.
Source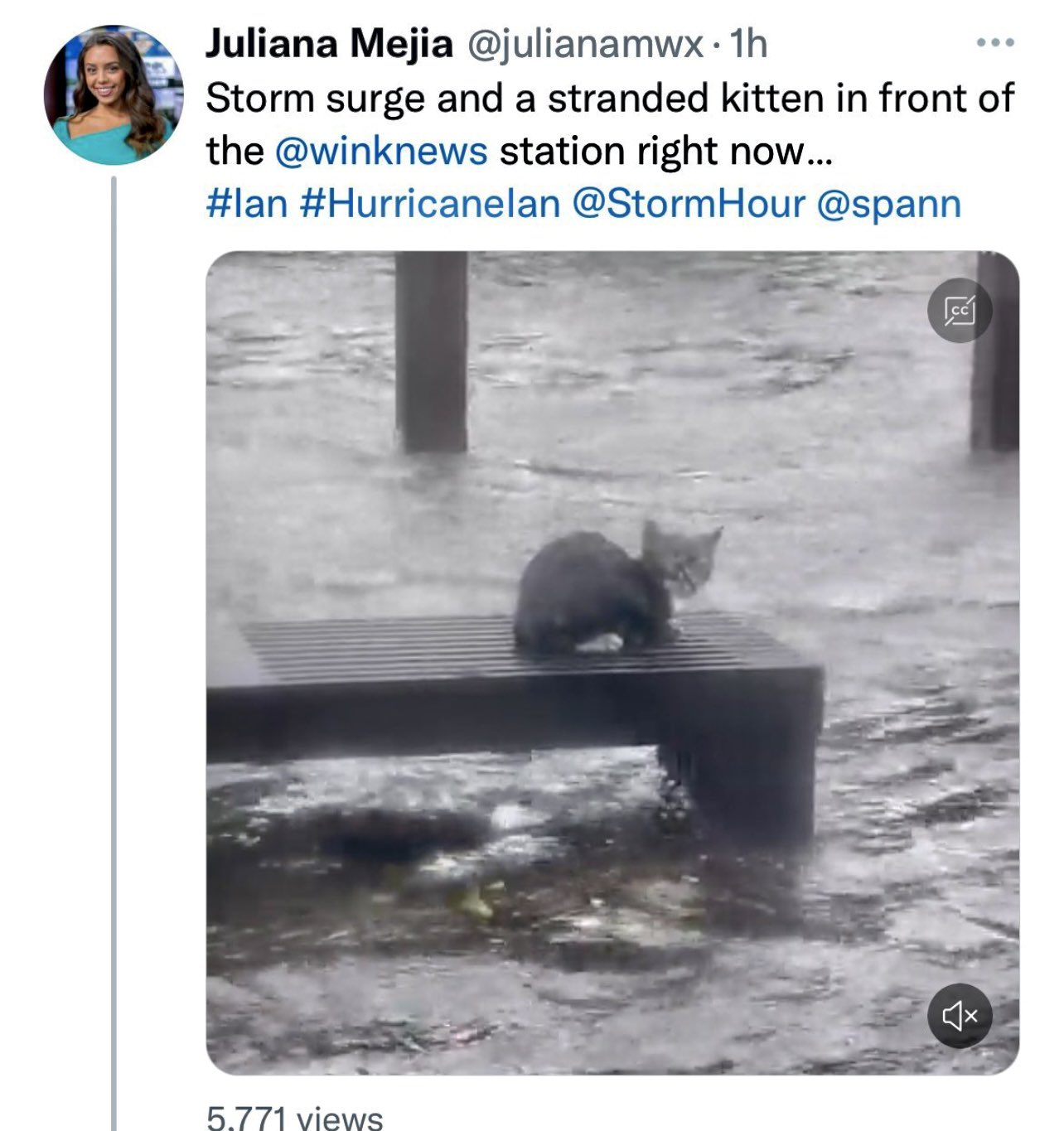 Reporter Criticized for Not Rescuing Cat Stranded by Hurricane Ian Surge
A meteorologist based in southwest Florida received backlash on social media after posting a video of a cat surrounded by rushing waters outside his local news building as Hurricane Ian reached landfall. Dylan Federico, who works for Fort Myers station WINK News, posted a seven-second video to Twitter on Wednesday showing a small, darkly colored cat huddled on top of a bench that appears to be just beyond the building's doors. He said that the doors were "locked but we're trying to get the kitten inside." Federico has since deleted the original video from his account, but posted an update on the situation later in the day saying that the cat swam away from the building before he and his colleagues could bring it to safety.
"I waited to post an update in hopes we could grab it," wrote Federico. "Please take your companions with you when you evacuate." Despite Federico's insistence that efforts were made to save the endangered animal, some users have called his failure to bring the kitten inside the building "disgusting." Twitter user Kelly wrote in response to Federico's update, "So you didn't save it and just watched it have zero chance of survival.... Good job!" "You want us to believe that the kitten bravely leaped into that moving water and swam in another direction at Olympic speeds that no one could grab at it?" Twitter user Dara Faye said in a response. One of Federico's WINK News colleagues, meteorologist Juliana Mejia, also posted a picture of the stranded cat, who appears to look at the direction of the camera when the photo was taken. Mejia has also deleted her picture of the stranded feline.
Source