"He is absolutely the last person in the world I would have ever dreamed would do something like this,"
Ms. Bourdain
Another celebrity dead by means of AeA.
NEWS ACCOUNT
French prosecutors said late on Friday that there was no foul play involved in the hanging death of Anthony Bourdain, the celebrity chef and TV personality whose suicide has rocked the food and entertainment industries. The 61-year-old was found unresponsive on Friday morning in the bathroom of his room at Le Chambard hotel in Kayserberg by his close friend Éric Ripert. It emerged he had used the belt from his hotel bathrobe to take his own life.
Source
Another famous person dies by means of Auto-Erotic Asphyxiation.
As with most who die by means of Auto-Erotic Asphyxiation - the body is found with a rope, or a belt around the neck, pants down etc. The police will claim that the death is an apparent suicide.
Because it is better to commit suicide than to die while masturbating.
Definition of Autoerotic Asphyxiation: a state of asphyxia intentionally induced (as by smothering or strangling oneself) so as to heighten sexual arousal during masturbation.
Bourdain was found naked hanging on the bathroom door with a belt around his neck.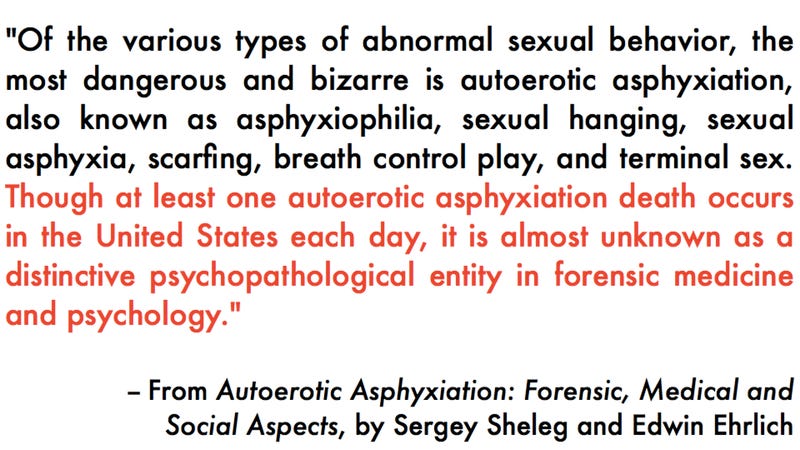 Famous people dead by means of Auto-Erotic Asphyxiation:
1. Robin Williams
2. David Carridine
3. Chris Cornell
4. Michael Hutchence
5. Albert Dekker
6. Hide
7. Stephen Milligan
8. Vaughn Bodé
9. Martin Luther
10. Kevin Gilbert
11. Frantisek Kotzwara
12. Chester Bennington
13. Avicii Tim Bergling
14 . Anthony Bourdain
When committing AEA a woman is usually present to help along. Hang yourself on the hotel door or the bedroom door, or the bathroom door. Chester Bennington chose to do it on the bedroom door. Anthony Bourdain chose the bathroom door.
And in this case it looks like Anthony did it alone...
— Anthony Bourdain (@Bourdain) May 22, 2018
See:
Actor Robin Williams Dead By Means Of Autoerotic Asphyxiation (AEA)! "It Was A Hollywood Thing" August 11, 2014