Another AeA death.....
This time they call it a sudden accident instead of suicide...
Grammy-nominated 'trans icon' Sophie Xeon dead at 34: Scottish DJ who worked with Madonna and Charli XCX killed in 'sudden accident
Grammy-nominated musician Sophie Xeon has died after a 'sudden accident' aged 34. The Scottish artist, who was also known as SOPHIE, had worked with stars including Madonna and Charlie XCX. A statement from the transgender star's team hailed her as a 'pioneer of new sound'. The statement read: 'It is with profound sadness that I have to inform you that musician and producer SOPHIE passed away this morning around 4am in Athens, where the artist had been living, following a sudden accident.' At this time respect and privacy for the family is our priority. 'We would also ask for respect for her fanbase, and to treat the private nature of this news with sensitivity.' The star's label Transgressive added said on Twitter: 'Tragically our beautiful Sophie passed away this morning after a terrible accident. 'True to her spirituality she had climbed up to watch the full moon and accidentally slipped and fell. 'She will always be here with us. The family thank everyone for their love and support and request privacy at this devastating time.' Musicians and fans took to Twitter on Saturday to pay tribute to the star, who came out as a transgender woman in 2017 in video It's Okay to Cry. French singer-songwriter Christine and the Queens said SOPHIE was 'a stellar producer, a visionary and a reference'. She added 'She rebelled against the narrow, normative society by being an absolute triumph, both as an artist and as a woman.
Source
Fell?
Or
Jumped?
Or maybe died in the hotel room hanging on the bathroom door. Transgressive is not a police report. They are no more to be believed than the lying mainstreamed media.
And why did the family not say the same thing? If he fell to his death then he fell to his death? If it was an accident then it was an accident.
Why is the family embarrassed to say anything? And since the family issued a statement first, it looks like Transgressive is spinning a story to deflect from the true cause of death.
Oh and of course where's the pics of the scene of death? And what are the details? Did he fling himself off a cliff? or did he fall a few feet. Pictures please.
UPDATE 31 JANUARY:
The Roof Has A Parapet.
What is a parapet?
A parapet is a barrier that is an extension of the wall at the edge of a roof, terrace, balcony, walkway or other structure. The word comes ultimately from the Italian parapetto. The German equivalent Brüstung has the same meaning.
Source
OK the story is changing.
I thought the fall took place out side on a hill not on a rooftop.
Now it is said the 'trans icon' and Scottish DJ Sophie Xeon, 34, died 'after she slipped and fell from a rooftop' of a three-storey building in Athens.
Source
OK my first impression is that Sophie Xeon, climb a hill and fell off - this is what his agency said:
'True to her spirituality she had climbed up to watch the full moon and accidentally slipped and fell.'
Source
TWITTER QUESTIONS:


What? climbed up? why not say fell off the roof? A roof with a parapet?
The tarns Icon would have to been standing on the parapet in order to "slip" and fall off the roof. The parapet would prevent anyone from falling off the building, its a barrier - that's why they are there.
Police are investigating the cause of death.
'The exact conditions of the fall are being investigated by police in central Athens,' a senior official said. 'The investigation is ongoing.' Sophie's girlfriend Evita Manji told MailOnline she managed to speak with the artist after she fell into an open space in the rear of the apartment bloc.
Source
So the Trans hero fell three stories to his death and his girlfriend ran down three flights of stairs and still was able to talk to him?
Yeah right.
OK here's probably what happened.
The tranny was engaging in AeA and his girlfriend was helping him when he lost consciousnesses and suffocated to death. His girlfriend and others that were present were not able to revive him. To prevent further embarrassment to the trans Icon they took him to the roof and threw him off.
Better to fall three stories than to die masturbating yourself to death.
List of Hollywood deaths by means of Autoerotic Asphyxiation:
Robin Williams
David Carridine
Chris Cornell
Michael Hutchence
Albert Dekker
Hide
Stephen Milligan
Vaughn Bodé
Martin Luther -The Heretic
Kevin Gilbert
Frantisek Kotzwara
Chester Bennington
Avicii Tim Bergling
Anthony Bourdain

Brody Stevens

Keith Flint

Jeffrey Epstein

Sophie Xeon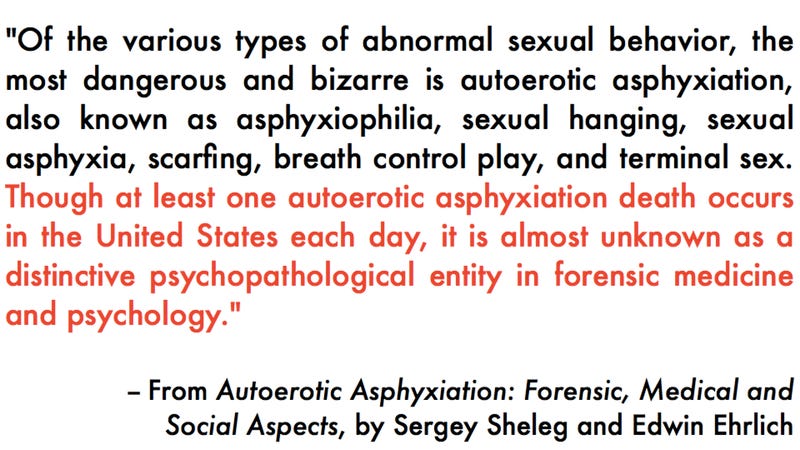 See more posts on the AeA death of "Rock Stars"
TOP: Avicii + Chester Bennington
BOTTOM: Chris Cornell + Anthony Bourdain