Elon Musk Melt Down: Sorry Pedo Guy, You Really Did Ask For It.....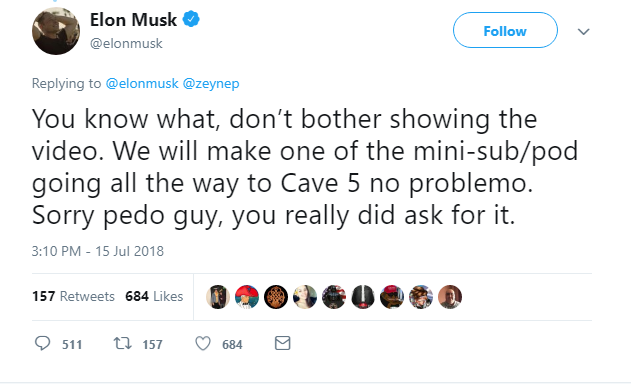 Elon Musk attacks hero British diver and questions if he was even part of Thai cave rescue in extraordinary rant after the caver dismissed the billionaire's plan saying he 'can stick his submarine where it hurts'
Elon Musk has launched a vicious Twitter rant against the heroic British caver who helped rescue 12 trapped Thai schoolboys. The billionaire attacked the British expat, saying 'he never saw him at the cave' after the experience caver rubbished Musk's plans to use a miniature submarine to save the boys. Vernon Unsworth, who led the rescue operation, had earlier accused the Telsa CEO creating a 'PR stunt' saying Musk 'can stick his submarine where it hurts'.'It just had absolutely no chance of working. He had no conception of what the cave passage was like' Mr Unsworth earlier told CNN. 'The submarine, I believe, was about five-foot-six long, rigid, so it wouldn't have gone round corners or round any obstacles.' In a series of tweets responding to a journalist Musk said: 'Never saw this British expat guy who lives in Thailand at any point when we were in the caves. Only people in sight were the Thai navy/army guys, who were great. Thai navy seals escorted us in — total opposite of wanting us to leave.
Source
You know what, don't bother showing the video. We will make one of the mini-sub/pod going all the way to Cave 5 no problemo. Sorry pedo guy, you really did ask for it.

— Elon Musk (@elonmusk) July 15, 2018