Photos show Jeffrey Epstein as he's wheeled into Downtown Hospital
Paramedics frantically tried to revive convicted sex offender Jeffrey Epstein early Saturday morning after he was found unresponsive in his cell in downtown Manhattan, exclusive photos shot by The Post reveal. The 66-year-old disgraced financier hanged himself in his cell in 9 South at the Metropolitan Correctional Center, according to multiple sources. A call was placed to first responders around 6:30 a.m. as MCC staff tried to revive him, said the FDNY and Bureau of Prisons. Photos of Epstein taken around 7:30 a.m. show the convicted pedophile still wearing his orange prison jumpsuit as he's wheeled on a gurney into York Downtown Hospital. The images show a drawn, ashen face with closed eyes, and EMTs using a breathing apparatus in an attempt to revive the multi-millionaire convicted pedophile.
Source
Epstein 'Needed' Three Orgasms A Day, Witness Testified
A woman who served as one of Jeffrey Epstein's personal masseuses testified the accused sex trafficker needed to have multiple orgasms a day, according to court records unsealed Friday. Johanna Sjoberg testified during a 2016 deposition that she was a college student in her early 20s when Epstein's alleged madam, Ghislaine Maxwell, approached her in 2001 at Palm Beach Atlantic College and recruited her to serve as Epstein's personal assistant.
Source
Three Orgasms A Day?
How's he gonna get that done locked away in a jail cell all by himself?
Probably by Auto-Erotic Asphyxiation......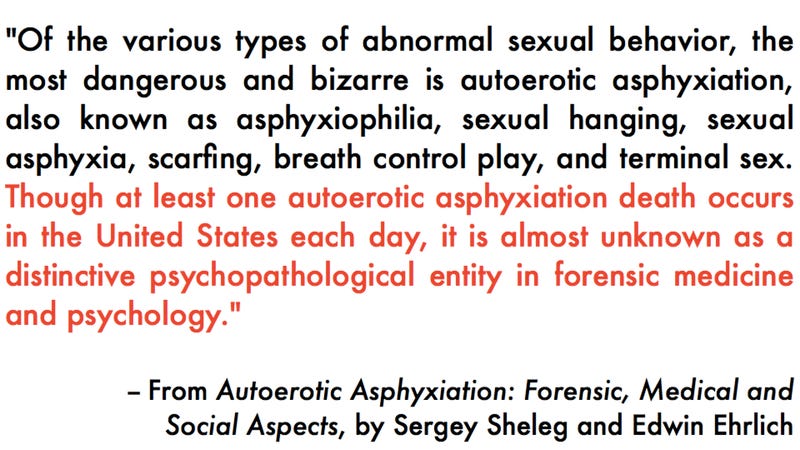 Remember this one from 2013:
Ariel Castro may have died from auto-erotic asphyxiation, not suicide, state says
COLUMBUS, Ohio Cleveland kidnapper Ariel Castro's death by hanging in his prison cell may not have been suicide after all, but an attempt to choke himself for a sexual thrill, authorities said Thursday. They also said two guards falsified logs documenting the number of times they checked on Castro before he died. The report from the Ohio Department of Rehabilitation and Correction suggests - but does not conclude - that Castro may have died as the result of auto-erotic asphyxiation, whereby individuals achieve sexual satisfaction while choking themselves into unconsciousness. Source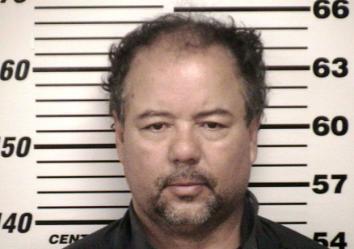 Castro had sex slaves.
Epstein had sex slaves.
Both men were perverted.
Ariel Castro
did not give up this filthy ways once he was locked up.
Jeffrey Epstein did not give up this filthy ways once he was locked up.
Ariel Castro's final
perverted act may have been engaging in Autoerotic Asphyxia (AeA):
Epstein's final perverted act may have been engaging in Autoerotic Asphyxia (AeA):
Autoerotic Asphyxia (AeA): Asphyxia caused by intentionally strangling oneself while masturbating in order to intensify the orgasm through reduced oxygen flow to the brain.
The FBI is now investigating Epstein's apparent Suicide.
I bet everyone will be in an uproar if the FBI concludes that Epstein died from Autoerotic Asphyxia (AeA) and not suicide.
Most victims of
Autoerotic Asphyxia (AeA) are made to look like a suicide...because no one wants to be remembered that he died while masturbating....
In World's Greatest Dad, a 2009 black comedy written and directed by Bobcat Goldthwait and starring Robin Williams, Daryl Sabara, and Alexie Gilmore, Lance Clayton (Robin Williams) discovers in horror that his son Kyle (Sabara) has accidentally strangled himself in an autoerotic asphyxiation accident in his bedroom, looking at a picture of Claire (Gilmore)'s underwear. To avoid embarrassing his son and himself, the Williams character stages his son's death as an intentional suicide.
Source

Famous people dead by means of Auto-Erotic Asphyxiation:
1. Robin Williams
2. David Carridine
3. Chris Cornell
4. Michael Hutchence
5. Albert Dekker
6. Hide
7. Stephen Milligan
8. Vaughn Bodé
9. Martin Luther
10. Kevin Gilbert
11. Frantisek Kotzwara
12. Chester Bennington
13. Avicii Tim Bergling
14 . Anthony Bourdain
15. Comedian Brody Stevens
16. Keith Flint
17. Economist Alan Krueger
Privacy is a must when engaging in Autoerotic Asphyxia (AeA) and that's why two guards were told to give Epstein some privacy for three hours...
UPDATE 19 AUGUST
Refusing to cooperate?
Some one must be embarrassed about something..
Hey was Jeffrey Epstein naked when the guards found him?
Some jail staffers not cooperating with DOJ investigation into Epstein suicide, source says
Personnel at the New York City prison where accused sex trafficker Jeffrey Epstein committed suicide last week have not been initially cooperative with investigators from the Department of Justice, a federal source told Fox News Friday. Attorney General William Barr sent two senior DOJ officials to personally visit the Metropolitan Correctional Center and speak with staff from the Federal Bureau of Prisons (BOP) in order to gather information on Epstein's death after Barr said officials uncovered "serious irregularities" at the jail, a senior DOJ official told Fox News. The officials have been on site since Thursday and the FBI and the Justice Department's inspector general are investigating conditions at the MCC.
Source
Shrieking?
What kind of man shrieks over a dead body
Maybe Jeffrey Epstein was naked with a full erection and maybe Jeffrey Epstein shot his seed into the face of the Guard who was trying to revive him.
That would make any normal man shriek...
Shouting and shrieking heard in Jeffrey Epstein prison cell:
There was reportedly shouting and shrieking coming from billionaire sex offender Jeffrey Epstein's prison cell the morning that he was found dead of an apparent suicide. CBS News reported Tuesday that the noises were heard from the cell located in Manhattan's Metropolitan Correctional Center, a variable-security lockup dubbed the "Guantanamo of New York." It is unclear who was making the noises or when they were heard.
Source
TUESDAY 13 AUGUST
George Parry is a former federal and state prosecutor.....
The Convenient Death of Jeffrey Epstein What if it were neither murder nor suicide?
Just as the manner of death can be homicide or suicide, it can also be unintentional or accidental. So consider the following. It is entirely possible that Epstein, in seeking a powerful orgasm, wrapped his neck in his prison jumper, tied the noose to his metal bed frame, and used this to restrict the flow of oxygen to his brain while sitting on the floor of his cell. Quite possibly he had done this before as in the time he was taken to the hospital with injuries to his neck. Only this last time, as he was pleasuring himself in his hypoxic state, he could have quickly lost consciousness and accidentally caused his own death. Since we don't have all of the facts, this analysis is most certainly speculative. But, in light of the ample evidence of Epstein's reputedly voracious and deranged sexual obsessions, this accidental manner of death should be given serious consideration by the FBI and Inspector General as they investigate his death.
Source
MONDAY 12 AUGUST
Former MCC inmate: There's 'no way' Jeffrey Epstein killed himself
There's no way that man could have killed himself. I've done too much time in those units. It's an impossibility.
Between the floor and the ceiling is like eight or nine feet. There's no way for you to connect to anything.
You have sheets, but they're paper level, not strong enough. He was 200 pounds — it would never happen.
When you're on suicide watch, they put you in this white smock, a straight jacket. They know a person cannot be injurious to themselves.
The clothing they give you is a jump-in uniform. Everything is a dark brown color.
Could he have done it from the bed? No sir. There's a steel frame, but you can't move it. There's no light fixture. There's no bars.
They don't give you enough in there that could successfully create an instrument of death. You want to write a letter, they give you rubber pens and maybe once a week a piece of paper.
Nothing hard or made of metal.
There's up to 80 people there. They could put two in cell. It's one or two, but I'll never believe this guy had a cellmate. He was too blown up.
The damage that unit can do to someone.
It's like you're an animal and you've been brought into a kennel. A guy like Jeffrey, it's like, "Holy sh-t."
I told my parents not to come there. God wasn't in the building.
I've had some heavy incidents in the building. What happened is permanent.
Some of the guards are on a major power trip. They know guys there are suffering. They know something the rest of the world hasn't seen, that a place like this exists in this country, and they get off on it.
If the guards see that the guy is breaking, they're going to help you break.
But it's my firm belief that Jeffrey Epstein did not commit suicide. It just didn't happen.
Source
SATURDAY 10 AUGUST
Statement Of Manhattan U.S. Attorney On The Death Of Defendant Jeffrey Epstein
Manhattan U.S. Attorney Geoffrey S. Berman said: "Earlier this morning, the Manhattan Correctional Center confirmed that Jeffrey Epstein, who faced charges brought by this Office of engaging in the sex trafficking of minors, had been found unresponsive in his cell and was pronounced dead shortly thereafter of an apparent suicide. Today's events are disturbing, and we are deeply aware of their potential to present yet another hurdle to giving Epstein's many victims their day in Court. To those brave young women who have already come forward and to the many others who have yet to do so, let me reiterate that we remain committed to standing for you, and our investigation of the conduct charged in the Indictment – which included a conspiracy count – remains ongoing.
Source
TWEETS
Source