And behold another beast like a bear stood up on one side: and there were three rows in the mouth thereof, and in the teeth thereof, and thus they said to it: Arise, devour much flesh. Dan.7.4
The second Beast is Bear. BEAR = SOCIAL MEDIA (Microsoft + Facebook + Apple + Youtube + Twitter + Instagram Wikileaks + Google + Amazon's Alexa + Snapchat + WhatsApp + 8Chan etc...)
Arise, devour much flesh...
Man, 26, who triggered a bomb scare in New York after leaving two rice cookers in a Manhattan subway station is arrested
The 'person of interest' who prompted a bomb scare in New York Friday when he left two rice cookers in a lower Manhattan subway station has now be apprehended by police, officials revealed Saturday. Larry Kenton Griffin II, 26, was apprehended by cops in the early hours of the morning in the Bronx, with cell phone footage from the scene also showing officers taking a shopping cart into evidence. Griffin, originally of Bruno, West Virginia, was caught on surveillance footage Friday pushing a shopping cart with the rice cookers inside into Fulton Street Station in downtown Manhattan. The discovery of the items, which had at first been deemed suspicious by authorities, prompted an evacuation of Fulton Street and counterterrorism officers were summoned to the scene. A third 'suspicious package', later discovered to be another unmodified rice cooker, was found next to a garbage can in Chelsea just minutes later. Cops have not yet attributed Griffin to the device. However, Griffin - who has an outstanding warrant for his arrest in Logan County - was named as a 'person of interest' by the NYPD, but 'not a suspect of a crime'. Jason Griffin, Larry's brother, explained to DailyMail.com that his brother is homeless and mentally ill and believes his actions may have been 'a cry for help'. He said: 'There was no evidence that he would ever be a 'rice cooker bomber', he has no political affiliation and as far as I know is a registered Democrat.' Larry called his brother when he realized police were looking for him.
Source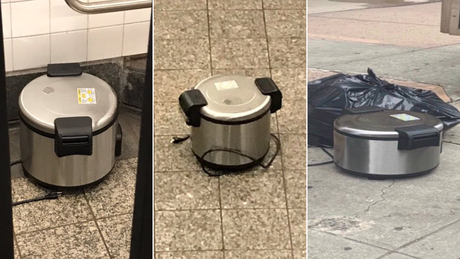 Arise, devour much flesh......
Here is my take on the Four Beasts:
The Four beasts of Daniel are:
FIRST BEAST LIONESS WITH WINGS OF AN EAGLE = THE AIRLINE AND SPACE INDUSTRIES
1. The first was like a lioness, and had the wings of an eagle: I beheld till her wings were plucked off, and she was lifted up from the earth, and stood upon her feet as a man, and the heart of a man was given to her
SECOND BEAST BEAR = SOCIAL MEDIA (facebook twitter etc...)
2. And behold another beast like a bear stood up on one side: and there were three rows in the mouth thereof, and in the teeth thereof, and thus they said to it: Arise, devour much flesh.
THIRD BEAST LEOPARD = NATIONALISM OF THE FORERUNNER TO THE ANTICHRIST (HE WHO MURDERS THE FATIMA POPE WITH AN ARMY MADE UP OF MANY NATIONS)
3. After this I beheld, and lo, another like a leopard, and it had upon it four wings as of a fowl, and the beast had four heads, and power was given to it.
FOURTH BEAST = THE ANTICHRIST (THIS IS CHURCH DOCTRINE AS ALL FATHERS TESTIFY)
4. After this I beheld in the vision of the night, and lo, a fourth beast, terrible and wonderful, and exceeding strong, it had great iron teeth, eating and breaking in pieces, and treading down the rest with its feet: and it was unlike to the other beasts which I had seen before it, and had ten horns.
All four beast are different from one another - the third and fourth beasts are political in nature but different - the third being man-made nationalistic political authority and the fourth being man-made universal political authority.
I think this is in line with what the Church Fathers would say.
If you find fault in this let me know.
Arise, devour much flesh......