Twisted Russians wrote 'for our children' on missile used in attack on Ukrainian railway station refugees that killed at least 39 civilians - including four children - who were fleeing Putin's atrocities
Russian soldiers wrote a message of revenge on the missile that killed at least 39 people - including four children - and wounded 87 when two strikes hit a railway station in east Ukraine today, as thousands of desperate evacuees tried reach safer parts of the country. Graphic pictures on Friday from Kramatorsk showed bodies strewn across the floor, lying amongst luggage and children's prams outside the city's busy station. Some had already been put into green body bags, while other photos showed smoke rising from the building as firefighters rushed to the scene. The wreckage of a large missile was left lying on the grass outside the station. White Russian text was shown written down the side of its casing, which read: 'For (our) Children' - a revenge message from the pro-Moscow soldiers that launched it. It is believed to be the result of Russian propaganda brainwashing troops into believing Ukraine is carrying out atrocities in the east of the country.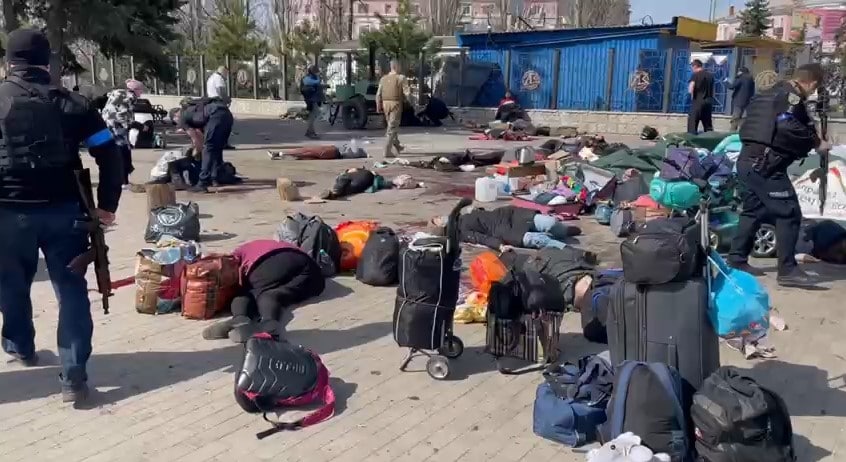 Military commentators said the missile used in the attack was a Soviet-era Tochka U missile - accurate to within 200 to 500 feet. The station is found in the centre of Kramatorsk - a town of more than 150,000 people. Both Russian and Ukraine both still use the missiles, and the evacuations would have been known about. Although Moscow denied the attack saying Ukraine also the same missile, the projectile was painted green as Russian weapons are - while Kyiv's equivalent is painted grey, according to experts. Ukraine's president Volodymyr Zelensky took to Instagram to decry the attack, and confirmed the reports of casualties. '[Russian forces] are cynically destroying the civilian population. This is an evil that has no limits. And if it is not punished, it will never stop,' he wrote. He said no Ukrainian soldiers were at the station when it was hit. The Mayor of Kramatorsk Oleksander Honcharenko said there were around 4,000 people at the city's railway station when it was bombed by at least two rockets. He said most were women, elderly and children preparing to evacuate to safer regions as Russia focuses its troops in eastern Ukraine.
Source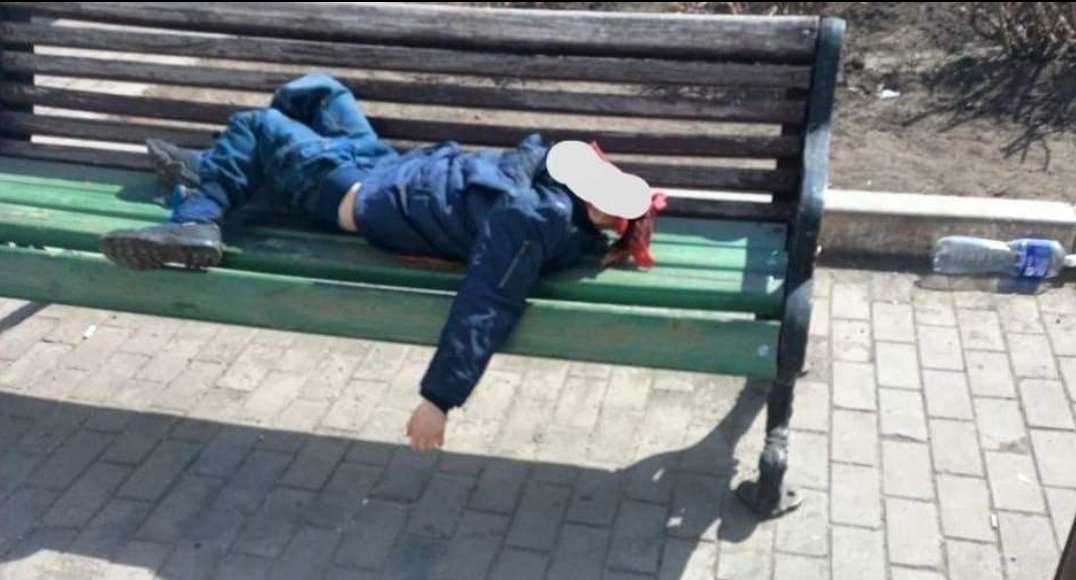 AT LEAST 35 people have been killed and more than 100 injured after a Russian missile with "for our children" scrawled on the side blitzed a Ukrainian train station.
Horror pictures show bodies strewn across the ground beside abandoned luggage at Kramatorsk railway station in eastern Ukraine amid reports the site has been blasted by Russian troops. The state railway company said two Russian rockets struck the station, which was being used to evacuate civilians from areas under bombardment by Vladimir Putin's forces. At least 35 people were killed and over 100 were wounded, it's reported, as shocking footage shows smoke billowing from the scene. About 4,000 people, most of them elderly, women and children, were at the railway station when it was struck, Mayor Oleksander Honcharenko said. Pictures show police inspecting the remains of a large missile with the words "for our children" in Russian etched on the side in huge letters.
Source
Russians Wrote On Bomb "For Our Children"