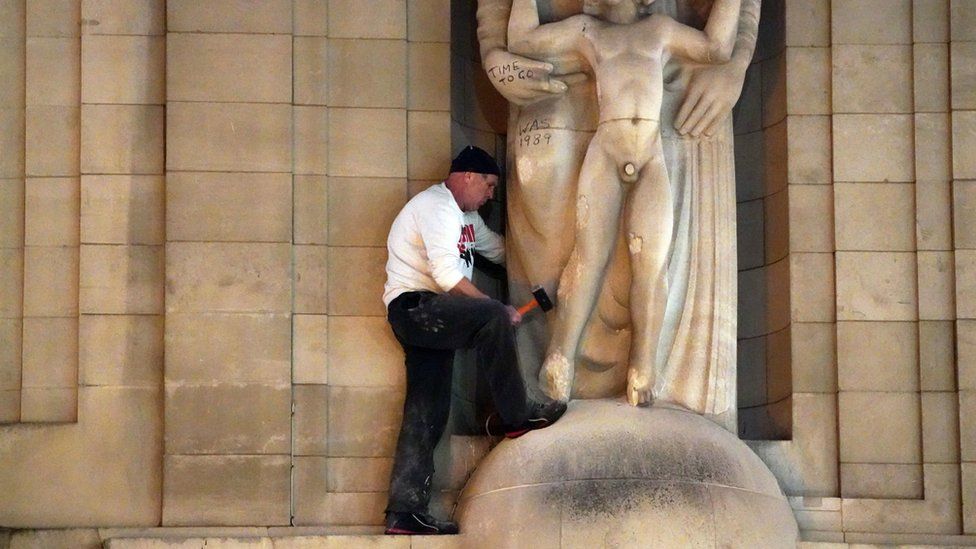 Eric Gill:
Convert
Communist
Sodomite
Dorthy Day Fan
Father of Distributism
Incestuous sexual abuse of his two eldest teenage daughters
Incestuous relationships with his sisters
Sexual acts on his dog.
All of the bad stuff on Gill was published in 1989 - so why did the majority of Rad Trads embrace the ideas of the Sodomite? This goes to show you that attending Latin Mass is not a guarantee that you won't be taken in by lies falsehoods etc.
I still contend that the majority of Rad Trads will form their own Church and that they will be followers of the Forerunner to the Antichrist.
Man damages BBC headquarters statue with hammer
A man has taken a hammer to a statue on the BBC's Broadcasting House in central London. The Prospero and Ariel statue was carved by Eric Gill and has been on display at the BBC since 1933. There has been a campaign to have the statue removed for several years, because the sculptor recorded sexually abusing his daughters in his diaries. Police were called to the scene at about 16:15 GMT and the man was brought down about four hours later. BBC staff reported hearing the man shout "paedophile" as he struck the statue at Broadcasting House, which is connected to New Broadcasting House, the BBC's main headquarters. A spokesman for the Met said the man was brought down with the help of a fire crew. He was checked over by ambulance workers before being arrested on suspicion of criminal damage and taken into custody, he added. He said the property owners were examining any damage to the statue and building. Earlier the force said another man had been arrested on suspicion of conspiracy to commit criminal damage. A spokeswoman for the BBC declined to comment. In recent years, groups such as QAnon have campaigned against the statue carved by Gill, who died in 1940.
Source